A PRAYER FOR NATALIA'S RECOVERY FROM CANCER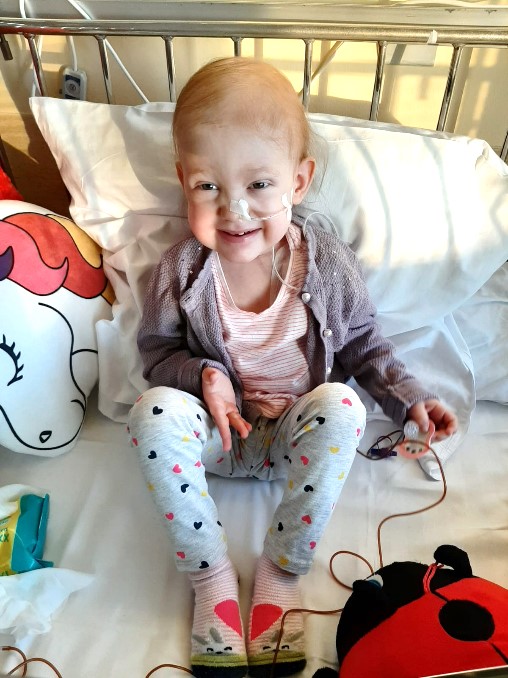 Natalia was born in October 2016. She has a twin sister Eliza. They were in the 25th week of pregnancy as extremely premature babies and Natalia weighed just 800 grams. Every day, they went through a series of medical examinations. After 3 months, we finally returned home. Everything was fine and the babies were developing properly.
In July we went for a neurology check-up because we didn't like the fact that Natalia often opened her mouth and stuck her tongue out. Unfortunately, this was not the symptom that caused the doctor's concern. Then the problem with walking started. My daughter complained about abdominal pain and we went to a pediatric surgeon twice for an ultrasound examination but he found nothing disturbing.
Natalia's reluctance to walk was increasing. Every time our daughter wanted us to carry her in our arms, she said she had a tummy ache and wanted it to be massaged.
Before we reported to the hospital in Lublin, we noticed that her right hand is weaker and drops inertly when we put our daughter to bed.
On 24 August 2019, we were admitted to the neurology ward of the hospital in Lublin. First of all, an X-ray and a head CT scan were performed; the results were all right. As the condition of our daughter did not improve, an examination of cerebrospinal fluid was ordered. Based on the results obtained, the physicians made the diagnosis that Natalia had meningitis. The treatment that was started did not bring any improvement in our daughter's health; instead, it worsened. Natalia's condition was better when she was on painkillers only than when the meningitis treatment started. She became apathetic, she didn't want us to carry her, and she didn't want to eat or drink. It was hard to amuse her to see a smile on her face.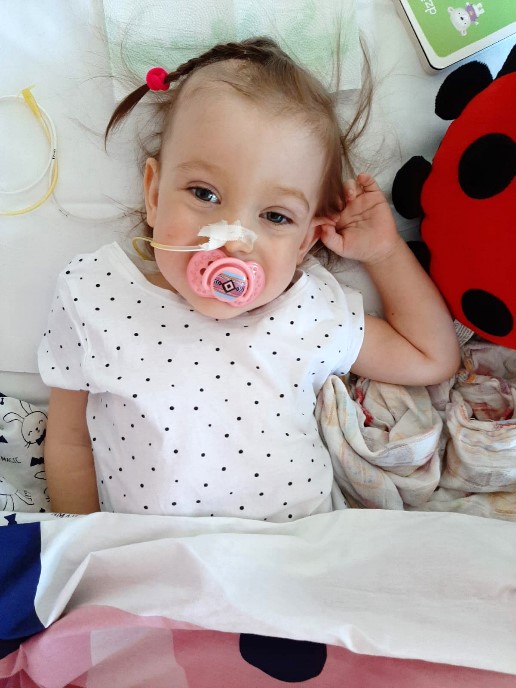 Partial paresis of the right arm and leg appeared.
After a week-long attempt at treatment, we reported no improvement in our daughter's health. The doctor ordered an urgent MRI of the head and neck (we waited 3 days). On that Friday morning, on the way to the MRI, Natalia said the words "Mom, you'll be sad." The result presented to us by the orthopedist – a large tumor at the base of the skull – shocked us but then we still thought there was a chance for a quick response on the part of the doctors and for treatment recommendation.
We waited for a long time for a consultation with a neurosurgeon because he had to finish work at another hospital. At about 6:00 PM, the neurosurgeon told us that it was the first time he had seen such a thing, with such a location, and he did not know if anyone would be able to help us, because the only way to get to the tumor was through the mouth and the throat. He said he could perform a surgery to ensure bone decompression of the tumor by removing the cervical vertebrae, which we were unable to accept. Shocked and devastated, we left the doctor's office.
We started crying out of helplessness, not knowing what to do next and whether or not to agree to an operation. We started calling our relatives and friends who could help us in any way. The decision was made. We wanted to go to the Children's Memorial Health Center. We asked the doctor on duty to do all he could so that we would be accepted there. On the same day, our daughter was transferred to the Intensive Care Unit and on the second day she was transported by helicopter to the Children's Memorial Health Center in Warsaw. My husband and the doctors were waiting for her there. She was accepted at the Intensive Care Unit. The MRI result before the surgery was another blow to us because the tumor reacted to contrast agents, which meant we were fighting a malignant tumor.  We prayed for Natalia to make it until Monday, because that's when the scheduled operation was to take place.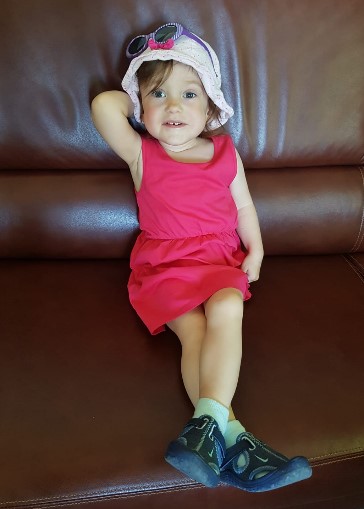 The doctors told us what they planned to do during the surgery and what the side effects could be. We were terrified but we knew we had to agree to have the surgery performed to save our baby.
On 9 September Natalia was in the operating room. After nearly 8 hours, tracheotomy, cranial extract, external ventricular drainage, removal of the tumor within visible boundaries, and decompression of the extended spinal cord from the access through the posterior pharyngeal wall were performed. Fortunately, everything went according to the doctors' plans. The view was not easy for us.
On 24 September we were transferred to the Oncology Ward. After a few days, the tumor was diagnosed as malignant neoplasm – a poorly differentiated chordoma. After the second chemotherapy, Natalia's condition improved and her arm and leg paresis started to recede. We tried to qualify for proton therapy in Essen but we were refused because the tumor was too big for such therapy. We are currently after the fourth chemotherapy and are in the process of applying for a tumor reduction surgery and then proton therapy.
Natalia needs help because her treatment will be expensive. Another surgery is needed to reduce the tumor to qualify for proton therapy. We do not have a cost estimate yet and are in the process of qualifying for the therapy. Unfortunately, it is not possible to remove the tumor in its entirety. Our beloved daughters did not have an easy start in their lives and we thought that they had already won their lives and a normal childhood. Unfortunately, Natalia has to continue her struggle. As we are farmers and live in the countryside, we would like to see again in Natalia's eyes the happiness and joy brought by living close to nature and having fun in the open air at any time of year. We kindly ask for your help and prayer.
You can help Natalia by making payments on the account: 
Fundacja Pomocy Dzieciom i Osobom Chorym Kawałek Nieba
PL31109028350000000121731374
swift code: WBKPPLPP
Santander Bank
Title: "2493 Help for Natalia Gryn"
or by DOTPAY: