OUR BELOVED SON FIGHTS WITH BRAIN TUMOR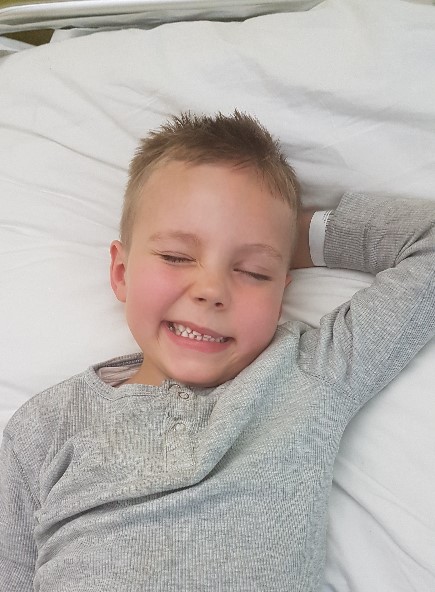 We are the parents of two wonderful children – a 6,5-year old Tosia and 4,5-year old Franek.  On the 10th of January 2019 our son – Franek has been sent to a Children's Clinical Hospital in Warsaw because of a facial palsy he had at the time. The palsy in the corner of his left lip was so faint that the medical staff was not convinced whether it was really there.  A couple of days later, after numerous consultations with specialists and after an MRI scan, it has been established that the palsy was caused by a glioma located in the brain stem – near areas that control vital life functions. The glioma is inoperable and the outlook very unfavourable. In a matter of moments our world broke into pieces. We are shocked, as there was nothing that could provide a hint to us about the condition that our son is in.
Franek was a healthy, happy, child that experienced normal development so far. As treatment options for children in Poland are limited, our only hope is to initiate individual, costly therapy abroad.
At the moment we are in contact with Kinderspital in Zurich, which offered biopsy of the tumor (cost 50.000 CHF). The result of the biopsy will enable to enforce dedicated medical treatment. However further costs of the treatment are unknown yet. We also keep waiting for the second opinion from Boston Hospital. We have to act quickly, there's little time left on our hands.
We kindly thank you for your help in our struggle. We need financial support for the hospitalization costs, purchase of drugs and other medical products (care of Broviac's catheter), Franek and parents' transport and accomodation costs.
Anna i Mateusz Popek with Family
You can help Franciszek by making payments on the account:
Fundacja Pomocy Dzieciom i Osobom Chorym Kawałek Nieba
PL31109028350000000121731374
swift code: WBKPPLPP
Santander Bank
Title: "2131 Help for Franciszek Popek"
or by DOTPAY: